Arnie Graf, MSW
Often referred to as the "organizer's organizer," Arnie Graf has spent the past 50 years working with people to build movements that collectively bring about change for the common good. The people and organizations Mr. Graf has crossed paths with speak for themselves. They include Saul Alinsky, Barack Obama, Ed Miliband (U.K.) and the Industrial Areas Foundation and Baltimoreans United in Leadership Development (BUILD).

Our guest will describe his guiding universal principles for successful organizing and the crucial role of relationships in the process. The late journalist Mark Shields (PBS) stated that Arnie Graf belongs in the social justice hall of fame – he is an encyclopedia of social change and organizational work. Join the conversation as a titan of organizing examines his approach to better the dignity and worth of all persons.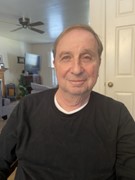 Arnie Graf, MSW, is an organizer and a social worker. Mr. Graf earned a B.A. from SUNY University at Buffalo in 1965 and received his MSW from West Virginia University in 1971. The majority of his career was spent aiding in the organization of local community-based nonprofits in cities and counties throughout the United States. His work with collectives in Baltimore led to the construction of over 1,000 homes for low-income people, started the Living Wage movement in 1994, and conceived and implemented the CollegeBound Foundation program. The program has enabled thousands of young people, including the Mayor of Baltimore, to become first generation college graduates. Additionally, Graf worked for the Labour Party in the U.K. from 2011 to 2013. Graf was briefly a teacher in the N.Y.C. public school system, and he also taught social work at San José State University and the University of Maryland. He retired in 2016 as the co-director of the Industrial Areas Foundation, the organization that was founded by the late Saul Alinsky.
Show Notes