Jazmin Graham
Just as the COVID-19 pandemic exposed cracks and disparities in many facets of society — including health care, governments, education and more — long COVID continues to disproportionately disrupt the lives of certain people.
These disparities demand the attention of social work change agents, along with the inability or unwillingness of our government leaders to pass long COVID legislation, the lack of long COVID clinics, and the need for advocacy and education related to workplace accommodations, paid sick and family leave and expanded disability benefits.

Today our guest, Jazmin Graham, LCSW, tells us what she knows. She will describe her own experience with long COVID, educate us about what long COVID is (and isn't), and discuss the implications for social work practice, social action and interventions.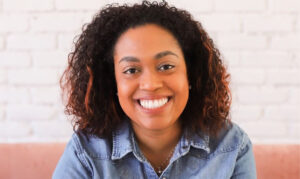 Jazmin Graham, LCSW, is a Licensed Clinical Social Work supervisor. She serves as a patient and family advisory council and inclusion coordinator at Texas Oncology. With 12 years of experience as a social worker, Jazmin has spent most of her tenure working in medical social work. Her passion is working with geriatric clients who struggle with end-of-life issues and life transitions, as well as guiding clients to support systems to ensure they have the resources needed to obtain or maintain good quality of life.
Show Notes